As a ParUp Golf user, you can enjoy some of the following fantastic features…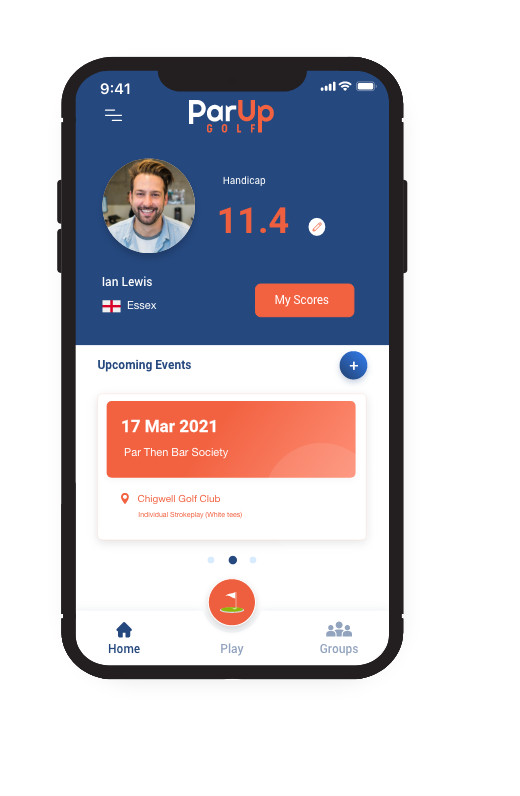 Create your own player profile. Specify your location (country and county). Set your handicap (which can be easily and quickly edited based on performance) and view all your latest scores.
Create your own group / society
Create a dedicated hub for your golf group or society. Whether this is an existing private group you've run for some time or you want to create a new public group within your local area, the choice is yours. Manage new member requests for the group. Schedule future events for the group, specifying the course, the playing format (stableford or strokeplay) and preferred tees.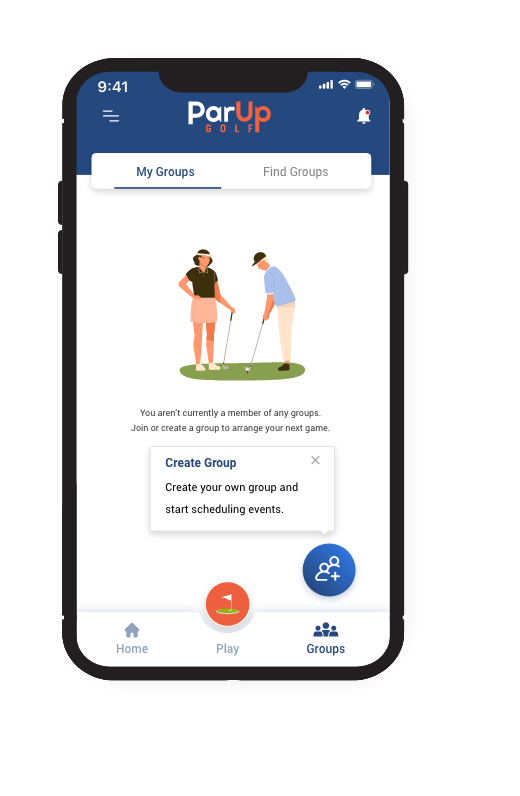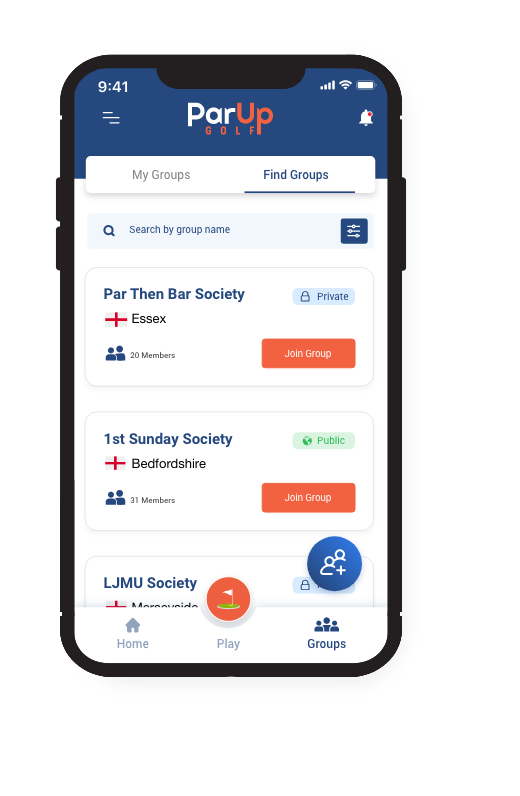 Find and join a local group / society
Join an existing private group or society you've been playing in for some time or find and join a public group within your chosen area of the country. Join fellow members playing in group events and review all the latest scores from previous group events.
Digital scoring for your group / society
Never use a paper scorecard and pencil again! Enter the gross scores for you and up to 3 other players and the digital scorecard does the rest, calculating gross totals and both the total and running cumulative for stableford points or the strokeplay net score. The digital scorecard can be used for all 18 hole golf courses within the UK and Ireland and will automatically pull-in the relevant hole-by-hole data for the specified course.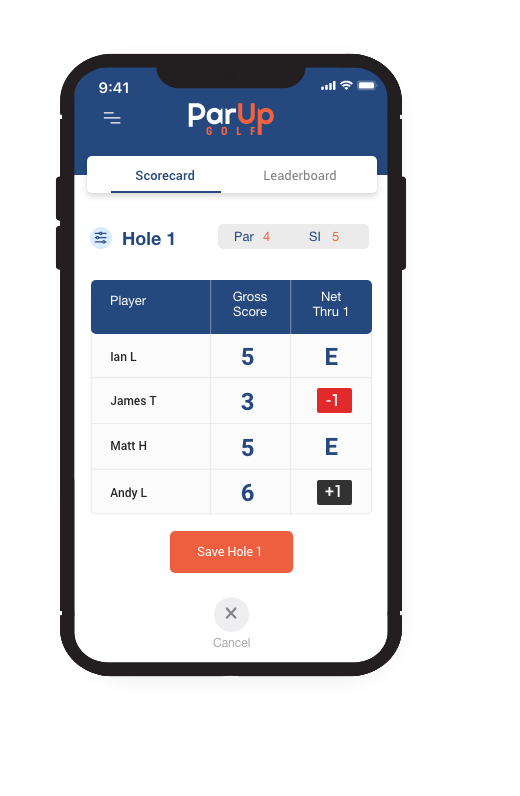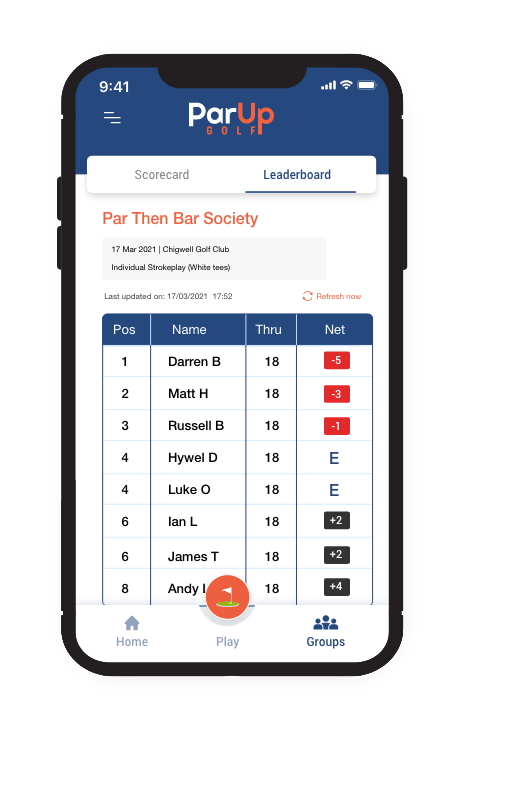 View live leaderboards in-play
Transform your group event and make it feel like you're watching the professionals on TV, by viewing live leaderboards in-play. Watch as players change position on the leaderboard hole-by-hole, whether it is a stableford event based on total points or a strokeplay event, tracking total net scores.
View all individual player scorecards
View the individual scorecards for any player taking part in the event. Accessible via the leaderboard, track a player's progress and see their gross score per hole, as well as either the stableford points or net score for strokeplay.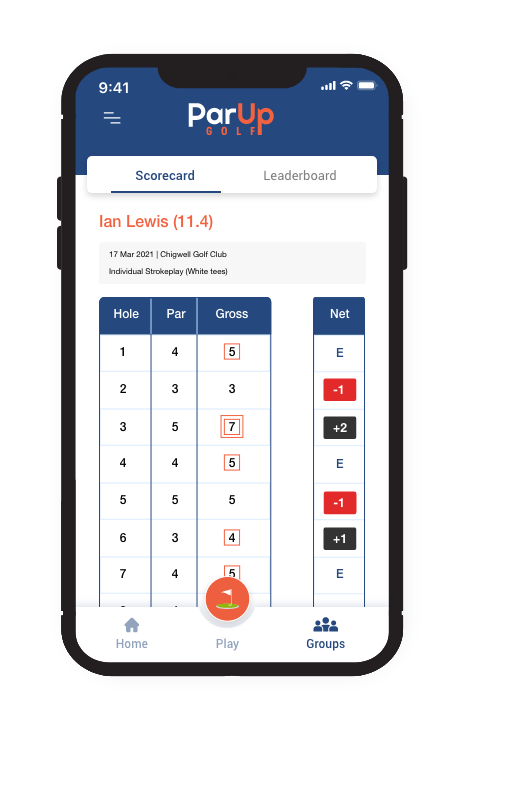 "I love the ParUp Golf app. It's really easy to use. It looks good and I love checking the live leaderboard during our society events, it definitely adds more excitement!."
"I've started using the app to host our monthly society events and so far, so good. As the organiser, I can set everything up very easily and quickly. It's great to have the digital scorecard and the live leaderboards. I also like the fact that all the previous event scores are saved to our group page."
"As someone relatively new to the game, I love the concept that the app helps me find other local golfers to play with."
"I have joined a local golf group via the app and have already made new friends as a result!"
"I have organised lots of golf trips and society days over the years and the admin can at times be a nightmare. This app makes the entire process so much easier. No need to work out winners or countback with the leaderboard feature. I can't wait to see what enhancements they have in store."
"I really like the app. It's very easy to use and I love the idea that it's trying to help golfers find local groups / societies in their area. As constructive feedback, I'd like to have the option to set my handicap as +1 (doesn't currently allow for + handicaps)."